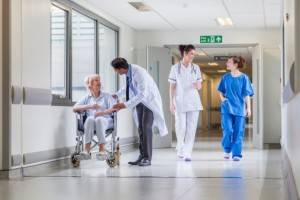 When Catholic Health Initiatives (CHI) created its secure communications strategy, the leaders of the national, nonprofit health system knew they needed a comprehensive technology solution. They also knew it would be a challenge to find that solution. In HipLink, CHI found a partner that could take on that challenge and help it realize the benefits of cutting-edge mobile health communications.
CHI is a national nonprofit health system with headquarters in Englewood, Colorado. CHI operates in 17 states and includes 86 hospitals and 40 long-term care facilities. With total annual revenues of more than $10.7 billion and approximately 83,000 employees, CHI ranks as the nation's second-largest faith-based health system.
Given the enormous size of the CHI health care system, these environments run many diverse and complex systems that are all isolated from one other and the personnel who rely on them. As CHI considered its future, its leaders realized that to create effective communications, they needed to unify these disparate systems under one communications structure.
The ideal system would allow critical communications not just between staff and physicians; it would incorporate alerts from monitored systems including HCI's Nurse Call, Smart Infusion Pumps, bedside EKG, bed alarms, and telemetry. It had to be able to integrate with electronic medical records (EMRs), enable staff to monitor bed availability, and send emergency notifications to on-call staff. It even needed to be able to send secure texts reminders and alerts to patients.
And it had to do all of this in a secure manner in compliance with HIPAA regulations.
HipLink: Ready for the competitive challenge
Fortunately, HipLink understands the needs of healthcare providers. The healthcare market is facing tremendous challenges as it strives to move to a value-based model, integrating care and providing enhanced communication for better patient outcomes. As organizations look for ways to meet these challenges, they are looking to mobile and wireless communication systems. In fact, the mobile health market is projected to reach $10.2 billion by 2018.
HipLink technology is based on the understanding that organizations can't solely rely on email for critical communications. When time is of the essence, information must get to the people who need it — wherever they are, on any device.
Winning over the competition
CHI's leadership created an interdisciplinary team to review the organizations complex needs and create a communications strategy. The team created a list of 453 criteria that the ideal platform would have to meet.
Then, the team vetted providers. After conducting a detailed comparative study of six possible providers, the team selected HipLink as the clear winner. HipLink's proven technology met 438 of the team's criteria; the next runner up met only 288.
HipLink's healthcare-ready software, already accepted by numerous other medical providers, provides a unique feature set including the ability to:
communicate with any end-point device,
utilize logins via LDAP (Lightweight Directory Access Protocol) to access stored information,
provide an on-site solution (instead of a hosted solution) to allow greater control for CHI's IT teams,
customize a secure mobile application based on CHI's preferences,
tailor the mobile interface to users' needs by limiting options or adding functionality, and
push access out to CHI's audience.
HipLink excels in the growing mobile healthcare market
As healthcare organizations move to a value-oriented service model, they must seek technology solutions that improve their ability to directly improve patient outcomes. Enabling faster response to critical communications is a key component for both providers and patients.
HipLink's complete, exclusive solution, coupled with the simplicity of a recurring billing model and options for either on-site or cloud-based implementation, ensures it is poised to serve the booming mobile health market.