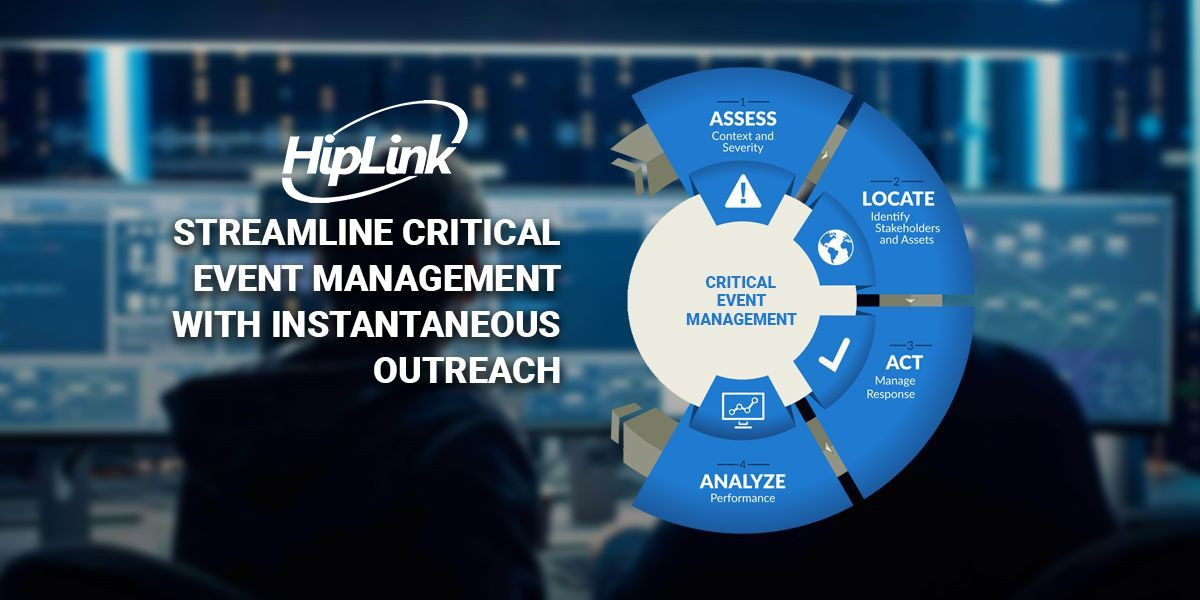 Emergencies and service disruptions are a staple in today's business world. How they impact your business depends on your response and level of preparedness. Without the right solution, your company would struggle to detect, respond, and recover from critical threats such as:
Cyberattacks
Extreme weather
IT outages
Public safety incidents
Through innovative technology, critical event management solutions enhance incident response, business continuity, and emergency management. They provide the planning tools and capabilities you need to resolve critical incidents quickly and efficiently.
Simplified Emergency Messaging
The best critical management solutions cut across the board when you need to blast out emergency messages. These are text alert systems that enable you to send text messages to multiple recipients simultaneously.
An SMS alert system sends messages directly to the mobile numbers on your list. Every person on the list will receive a text alert regardless of the type of device or mobile carrier. The system is highly effective because it sends text messages directly to a mobile phone. You can contact your employees regardless of your location and even if the power goes out.
Faster Communication
Text alert systems reduce emergency communication to a simple click of a button. Within these systems, you can create the drill and response for every critical event your firm, institution, or city is likely to encounter before they happen. You can preset the detailed instructions into the system and blast them out as soon as you detect the threat.
An SMS alert system puts your emergency response team on top of every developing situation. It allows them to hit the ground running and safeguard lives instead of scrambling for solutions in the face of an unfolding event.
Improved Public Safety
Timely severe weather warnings are crucial for public safety and are often broadcast at scale. Text alert systems are becoming a core component of citywide emergency response efforts. They allow emergency response teams to blast text messages to tens or hundreds of thousands of people with a single click.
Text alert systems have exceptional customization capabilities to let you classify recipients into different categories. You can tailor emergency communications to suit the needs of people in different locations. A text alert system can bolster evacuation efforts during a raging flood. You can segregate recipients according to their residential addresses. You can then send customize SMS with precise instructions and direct them to their respective rescue centers.
Quicker Response Times
People tend to check their phone notifications every time they chime. A text alert system lets you blast mass texts in seconds while leveraging this behavior for public safety and increased response times. It guarantees most of the recipients will receive the message and take immediate action.
SMS alert systems let you customize the type and size of the message you wish to send. You can break long, detailed instructions into several easy-to-read text messages to avoid confusion. You can also integrate links to emergency service websites or a dedicated website with further instructions.
Overall Security
The best SMS alert systems are cloud-based solutions that allow access to the service from any internet-enabled device while on the move. You can get into the alert system through an online portal. You can secure each account with a username and password and include two-factor authentication (2FA) for remote access. You can assign user groups with different permissions and access to safeguard sensitive data such as client information or residential addresses.
Improve Disaster Preparedness With a Text Alert System
Time is of the essence when responding to a disaster. A text alert system lets you send highly detailed and customized emergency messages instantly. You can group the recipients into different categories and improve the response rate by ensuring each group receives the necessary information. Text messaging reaches everyone on your list regardless of the device they're using or their mobile carrier. You can scale the texting service to cover any population size.