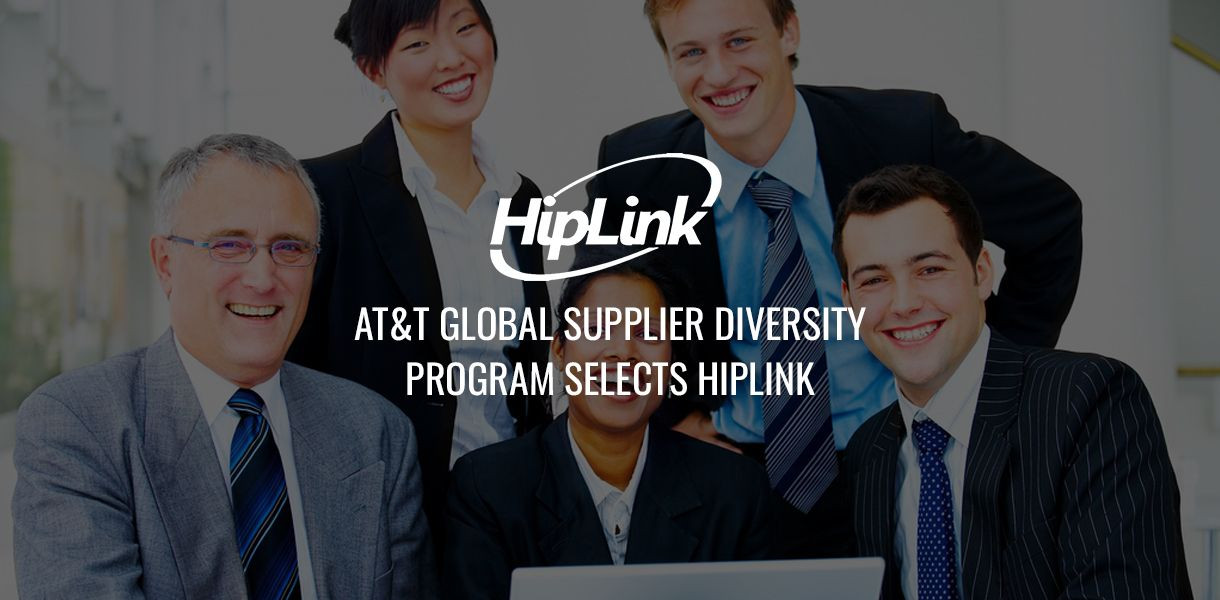 HipLink is proud to announce that AT&T has accepted the company into its prestigious Global Supplier Diversity Program, which supports our combined commitment to promoting ongoing change.
HipLink is a Certified Women's Business Enterprise (WBE) with a long history of investing in the effort to diversify its business. HipLink is a natural fit as a supplier for AT&T, bringing the company's internal buyers access to solutions that enable fast, secure, intelligent communication and incident notification. From a single HipLink server, users can solve multiple needs including application paging, desktop paging, emergency notification, and mass notification.
As a proactive supporter of diversity, AT&T has a long list of diversity-related programs and investments within its own business, and the company encourages other businesses to take part in the movement. In fact, they spent $12.8 billion with minority, women, and disabled veteran business enterprises in 2012.
AT&T's Global Supplier Diversity Program requires an extensive application and proposal process during which the supplier must provide proof that it meets AT&T's high standards for stability, quality, compliance, and operations excellence. In addition, suppliers must be certified as a Minority Business Enterprise (MBE), Women's Business Enterprise (WBE), or Disabled Veteran Business Enterprise (DVBE).
Qualifying for and maintaining a diversity certification is no small task. To be certified as a WBE, HipLink must meet strict standards and pass a formal review and certification by one of two agencies authorized for this purpose (NWBOC or WBENC). A WBE is
a business that is at least 51% owned by a woman or women; or
a publicly owned business, at least 51% of the stock of which is owned by one or more women; and
a business whose management and daily business operations are controlled by one or more of those individuals.
By setting attainable goals for increasing diversity in the workplace, suppliers learn how to create a more inclusive business while bringing the advantages of greater diversity to AT&T.
Why diversity matters: A diverse workplace is strong
Businesses are increasingly realizing the importance of employing a diverse array of employees. Organizations embrace national incentives to employ individuals of all genders, ethnicities, ages, religions, and sexual orientations — but savvy leaders also understand that diversity makes good business sense.
A report by the commerce research firm Dun & Bradstreet cites these surprising U.S. Census Bureau figures:
Between 1995 and 2050, minorities will account for 90% of the total population growth in the U.S.
The buying power of African-American, Hispanic-American, and Asian-American-owned businesses is $3 trillion. 
Women-owned businesses bring in $3.6 trillion in sales annually.
A diverse employee and supplier base allows organizations to better connect with a diverse customer base — and can lead to great working relationships with business partners that are minority-owned.
HipLink's commitment to diversity
HipLink is proud to be a Certified Women's Business Enterprise and an active member of AT&T's Global Supplier Diversity Program. The effort we extend to such programs is a commitment to practicing what we preach. By embracing diversity in all our business operations, we are not only creating a better world, but also building a stronger, most competitive business.
We are proud to continue our working relationship with AT&T as we drive growth and innovation in our own organization.