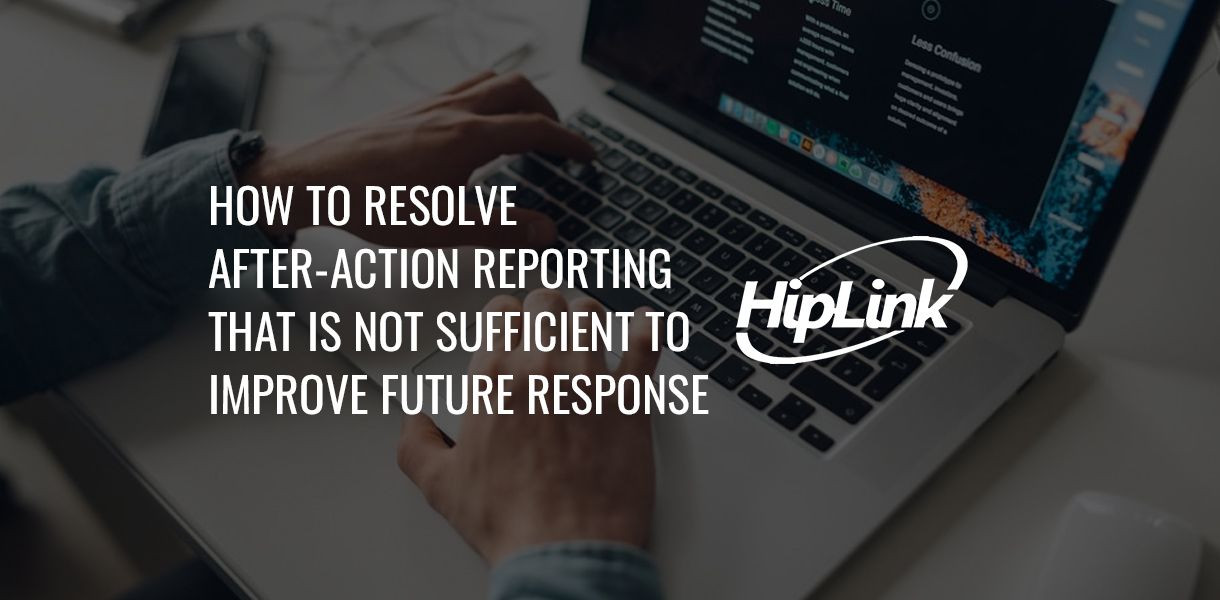 Welcome to our blog series about the 8 Solutions to Resolve IT Incidents Faster. For our second IT incident in this series we will be looking at how to resolve after-action reporting that is not sufficient enough to improve future response.
HipLink Software has been the premier provider of software for wireless text and voice communication to global organizations of all sizes for over twenty years, and our experience and industry expertise makes us familiar with the ins and outs of IT incidents and the fastest solutions to those problems.
Your After-action Reporting is Not Sufficient Enough to Improve Future Response
What Challenge is Presented to You?
"We keep running into the same problems when communicating around incidents."
When you run into the same recurring problems over and over again, it is a waste of time and resources for the organization having to figure out how to resolve that issue multiple times.
Why Does this Occur? 
If the same communication efficiency issues consistently occur when communicating around incidents, you are not engaging in adequate process review, after-action reporting, and improvement. You need to be able to determine what broke and what the response was by the employees to prevent the issue from occurring again. HipLink offers Support & Training Services for Secure Messaging Alert Systems that are customized on the specific system and features licensed by our clients to help teams like yours to improve upon their response skills.
What is the Solution?
After-action reporting is the first step in analyzing incidents with the goal of reducing MTTK. Check out the United States Army's A Leader's Guide to After-Action Reviews. These reports should be accurate and contain relevant data on your communication tactics. You should be able to tell what paths are most effective, how long it takes to get a confirmation from on-call staff, how long it takes to set up a conference bridge, and if your incident templates provide the necessary information.
Having a structured, repeatable response process is the key to success. It is also important, however, to keep in mind that after-action reviews should not be limited to problematic responses. Even good responses are beneficial to review to learn what aspects of the process are working well. The ultimate goal is to improve upon future responses by learning about mistakes, and successes, from past responses. There is a human element to these responses, so there will inevitably be problems that occur, but building a culture of continual improvement through reviews in a positive way will help employees stay on track and be willing to adjust their future responses.
Contact Us to Improve Your Alarm Management System
HipLink Software is always happy to answer your questions or chat with you to discuss the best solutions for your specific communication needs. If you would like to request a demo, download a trial, or send us a message please feel free to contact us today to get started!